Luangpor Joy
Luangpor Joy's amulet made of copper and cover with black colour, bless/chant on B.E.2537(1994) ceremony by Luangpor Joy at WatNohnthai temple, batch "Ku Baramee SaoHar(5)"(Great Karma together) (SaoHar(5) great day to consecrate holy items). Blessing good fortune and protection.
Frontside, image of Luangpor Joy blessing, word "Luangpor Joy Chinvasoh". Backside, yants mantras blessing good fortune and protection at center, batch and ceremony details.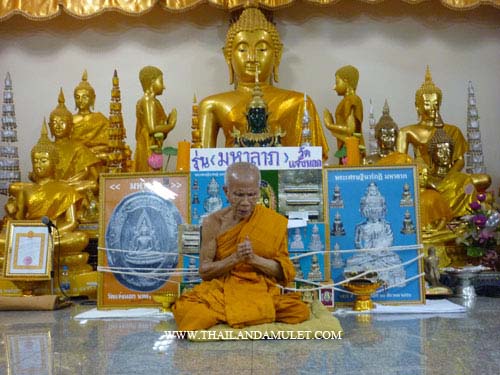 Luangpor Joy is 1st disciple of Luangpor Koon WatBanrai, the most famous guru monk of Thailand. Once the ceremony at WatSutat in Bangkok, while Luangpor Joy chanting holy items and holding 108 rosary, with powerful spell the whole rosary exploded in each separate way, the story are well known to any Buddhism.
The Best of Thailand Buddha Amulets at
WWW.THAILANDAMULETS.COM / WWW.THAILANDAMULET.COM