Phra Artigarn Pronsid WatSwangarom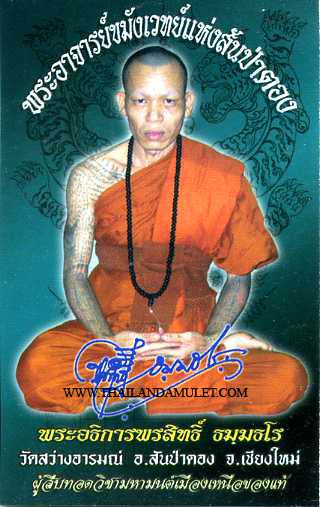 Luangpor Pronsid, abbot of WatSwangarom temple. One with magic/spell of northern Thailand. PhraSrisalangngang amulet is the original holy items by Luangpor Pronsid and his manters's way of knowledge spells.
Worship Mantras
Namotassa Pakawatoh Arrahatoh Summa Sumputassa (3 times) The mantras worship Buddha/Dharma/Sangha
One incense pray to worship and recite the mantra
Ahon-san-khon Ma-ha-san-khon Kan-mueng-bai-bon Num-ja-hang Mueng-ya-luem-gu-ner Er-rak-swa-hum-tid
Wishes for any, full of power, unique at kindness blessing, buy/sell business, welcome fast wealth/luck fortune. Mahasanae(Charming mantra), protect from harm dangers/misfortune.
Designed by Luangpor Pronside himself on 7 October B.E.2550(2007) 9.35p.m. The amulet made of many mixed sacred holy materials, bless/chanted through ten of ceremonies until the last wai-kru ceremony on 15 April B.E.2553(2010). (Thailandamulet.com Translated).
The best of Thailand Buddha Amulet at
www.thailandamulets.com / www.thailandamulet.com